We are really excited to be able to offer Wagyu beef straight from Japan.
SMALL COURSES
Wagyu beef ribeye 90 g   4.690 kr.
Grilled Wagyu ribeye with celeriac mayo,
fried mushrooms and chimmichurri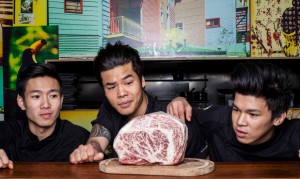 Wagyu Tataki   4.690 kr.
Wagyu ribeye tataki with caviar, truffle mayo
and amazu ponzu
Torched tuna and fat from wagyu beef nigiri   1.590 kr.
Two pieces tuna nigiri with burned wagyu fat
and teryaki sauce
Wagyu nigiri   1.990 kr.
Two pieces grilled wagyu beef nigiri,
salt and pepper
Wagyu Beef
Wagyu beef is world renowned for its premium quality. What makes it special is the highly marbled texture and delicious taste.
The meat we use is rated grate 5 marble ratio and is sourced from 100% fullblood Japanese Black Cattle, born and reared in Japan. The cattle have been specially raised in the beautiful area of Gunma prefecture, north west of Tokyo, using carefully selected feed, pure water and clean air.
The wagyu meat is available for a short period of time.
Well worth the try ….